Cub Cadet makes some of the best lawn and garden products on the planet. Lawn tractors, mowers, and tillers are only a few of their many products.
Commercial grade products are also available.

TROY-BILT

Troy-Bilt makes the best rear-blade roto-tillers in the world. Their line of products also includes mowers, lawn tractors, snowthrowers, chippers, and leaf blowers, just to name a few of their outstanding products.
Troy-Bilt snowthrowers are ready to tackle any winter snow.
HONDA
Honda's line of power equipment includes mowers, tillers, and trimmers, to name a few.
Honda Generators provide efficient backup power for emergencies.
Honda's snowblowers include single-stage and dual-stage models.
ECHO
Echo's line of equipment carries a 5-year consumer warranty, and is the best outdoor power equipment you can buy.
Chain saws, trimmers, brushcutters, edgers, power blowers, tillers, and more are available.

PACIFIC ENERGY

Pacific Energy gas, pellet or wood freestanding stoves. High performance, reliable and environmentally friendly.
TOYOTOMI
Toyotomi Oil Miser vented heaters run on kerosene, #1 fuel oil, and #2 home heating oil.
The Laser line of heaters run on K-1 Kerosene and No. 1 Fuel Oil for efficient heat.
MONITOR
Monitor Products' kerosene heaters set the standard for highly efficient kerosene heat.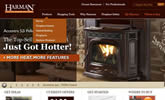 HARMAN STOVE COMPANY
The Harman Stove Company makes award-winning pellet stoves, wood stoves, coal stoves, gas stoves, and fireplaces to heat your home.